In the version release v53 we release new features to balance sheet itemization, improve the login page and make usability improvements, for example, to reporting.
BALANCE SHEET ITEMIZATION
Balance sheet item register
We have created a register for balance sheet items. Register can be found by selecting Management > Accounting info > Balance sheet item register. In the register user can create new balance sheet items, rename items, set items passive, and delete unused items. The following info about the balance sheet items will be available in the register:
Balance sheet item name
Is the item active or not
Usage quantity
Additional information
Creator
Creation time
Modifier
Modification time.
Old balance sheet items which were created before register release don't have actual creator or creation time.
When creating a new balance sheet item, the name needs to be unique. Name with lower and upper cases are treated as same item. When renaming an item, the new name is updated to everywhere, also to closed tracking periods and fiscal years. This enables, for example, fixing typos.
Deleting an item is possible if it is unused and if it is not signed to bank statement posting defaults. If the item cannot be deleted, it can be passivated instead. When item is set as passive it is not shown in the balance sheet item drop down in accounting views and it is not possible to add passivated item to the rows.
New item can also still be created in balance sheet item field in accounting views. Old already existing items will be moved to balance sheet item register so that all the existing items can be found there.
Balance sheet item drop-down menu on accounting views
We have added a drop-down menu to balance sheet item field in Accounting views and in Bank statement posting defaults Drop-down menu will help selecting the right balance sheet item and this will reduce the number of possible errors in balance sheet item names.
In the drop-down menu there are two titles: Popular items and All items.

Popular items will show the most used items so it's easy to pick an item that you use frequently.
All items will show all balance sheet items.
You can also start writing the wanted item name and then select the one you want.

It is also possible to create a new item and then the new item will be saved to balance sheet item register.

Please notice that balance sheet item created by other user might not be visible in the drop down before 10 minutes is past from creation due to database update cycle.

Passivation and deletion of an existing item is possible only in the balance sheet item register.
---
LOGIN PAGE
We are releasing login page improvements in version 53. Login page have now new Procountor logo. Layout is also improved for better usability and accessibility with slightly updated texts and separated input fields for username and password.
Also, login credentials mismatch error already follows new design where error message appears between input fields and next button.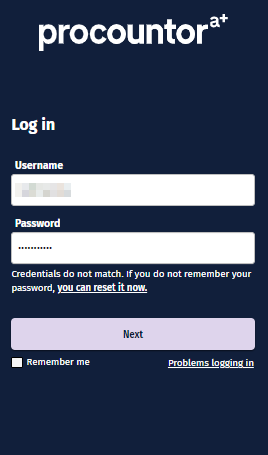 ---
BANK STATEMENTS AND REFERENCE PAYMENTS
We have added a new Account number field to the Bank statements and reference payments view.
---
USABILITY IMPROVEMENTS
Management reporting
We have added text "Comparison period" to the Management reporting (Reports > Management reporting). When user has switched on the comparison period from the left control panel, the function and label of "Prev. Year" KPI will change to "Comparison period". After selecting the comparison period the figures are shown as per the dates set in control panel.
Cashflow report
The sum is not multiplied anymore on the Cashflow report, if a purchase invoice is paid in parts.
Sales reporting
We have fixed the comparison year to correspond selected time period.
We have added a new column to the tables for showing the comparison value to user, so it is easier to see, how the percentage is calculated. We have removed product restriction from the change percent, so all products will be taken into account, when calculating the change.
PDF report modification was made to correspond the changes of Sales reporting
Sales order / Offer
When creating a new sales order or offer, the delivery week is now cleared if delivery dates are removed.
Management reporting / Management reporting by dimension
Supplier or buyer company name is now used in Management reporting and Management reporting by dimension reports, instead of the person.